Pipehacker Tools: Rite in the Rain All-Weather Memo Book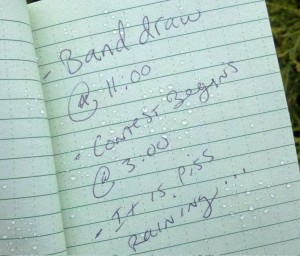 You're out on the pitch in full kit and it is coming down in buckets. Most Highland games soldier on rain or shine and we pipers are left to deal, grumbling about the wet, our reeds, trying our best to remember where to be and when. Worse, it's been nice and partly sunny all day but chooses to let loose with a torrent during massed bands and competition award announcements. The notepad, envelope, or sheet of paper you're planning to write down the important results info is dissolving in your hands. And your paper beer tickets…your beer tickets! Yet another frustration for the piper. And forget trying to make a pen work in such conditions.
Lament no more! The Rite in the Rain All-Weather Memo Book seems to have been created just for all-weather bagpipers on games day. Rite in the Rain produces a whole line of water-resistant pads, books, and papers. Their tiny, bound note books are a must for hikers, field workers, and anyone else who needs to write in conditions that turn all papers to mush. It is therefore perfect for the active competing Highland bagpiper.
The special "field-flex" cover is impervious to water and the interior pages are specially made to bead and shed water so that writing with pen or pencil in the pouring rain is as easy as writing in the sunshine. Ink and pencil won't run or smear, so your important notes are safe. With 112 inside pages, and a perfect, sporran-size 3.5 x 5 inches in dimension, the No. 954 book is the ideal tool to keep with you at all times, no matter the conditions. The picture above was taken during actual field testing in the pouring rain. Water rolled off the page and, although the pages did absorb some dampness, the whole thing dried in no time to be like it was brand new. This handy item delivers. Keep your tune list handy, write down results, jot down your playing times and field locations, all of it possible in any weather.