Pipehacker Tip: Tracking Your Practice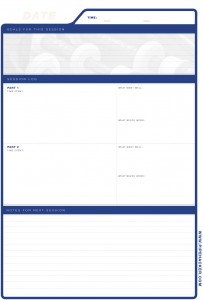 Time is a valuable thing. Given the demands of everyday living, it is often hard to fit in the full amount of time one needs for good practice. An active solo competing piper can reach a point where he or she is developing and polishing 15 or more separate pieces of music. A band player can also find themselves working on 25 minutes worth of performance material for competition alone. Put the active solo piper in a band, and that is quite a list of music to prepare and keep fresh.
Very few of us have the good fortune or lifestyle that will allow full run-throughs and detailed work on all of one's repertoire at every practice session. Breaking up your material and alternating music session to session is a good approach, but how do you keep track of your musical progress? Active pipers and drummers may have a lot of music to master, but professional symphony musician will sometimes have hours of material that must be worked. Many professional musicians keep detailed logs of their practice sessions. A musical log or diary is a good place to keep notes from instructors, personal notes on music, a list of personal goals and achievements, as well as keep a documentation of just how you've done over time.
This page can serve as a template for a typical practice log to get you started. Download and print multiple sheets of the page and use it as your master page for each session. (Better still, you can fill an entire log book here.) You can also attach additional pages, music, or notes and use the template as a place to summarize your thoughts. Before your session, think of some immediate general goals that you would like to accomplish, specific tunes you're on, or areas of technique or musicality you would like to exercise. Then, after your session, write in what you thought went particularly well, and what you think might need more work (be honest). Break up your session into focused parts with specific goals for each part. Write the amount of time spent on specific areas. Keeping good notes will allow you to track your personal progress as well as help create more balanced practice sessions so that all of your music will get a thorough workout.