Pipehacker 2011 Holiday Bagpipe Gift Guide—Black Friday Edition
If there's something pipers love more than a good tune and a pint, it is stuff. And what better way to get stuff than to ask Santa Claus come the 25th of December? I mean, who wants to be out in retail stores the day after Thanksgiving? Not this piper, I assure you. That doesn't mean one can't indulge in a little retail therapy by shopping online for cool gear for your pipe box. Below you will find a handy Pipehacker-sanctioned list of links to unique stuff that should flesh out your bagpiping gear. Perfect for emailing to Santa, your spouse, or whoever is going to fill your Christmas stocking this year. Enjoy, and the best Holiday season ever to all!
Once upon a time, a bagpiper's gear consisted of some hemp, some wax, and maybe a knife and a few spare reeds. Today, an active piper has all sorts of gadgets, tools, and ecoutrements. Tuners, drills, microphones, recorders, mobile phones, et. al accompany the typical hemp and reeds in the pipe box. Where do you hold it all? Behold the Grid-It innovation. The Grid-It is a system of elastic cloth bands that interlace and hold items of just about any size. Perfect for keeping all your stuff in one place and just the right size for the pipe case, and in cool colors too!
No tool is better suited to making clean "carves" on the holes of your bagpipe chanter than the cordless Dremel rotary tool. With the right bit, it as important a part of your piping toolbox as hemp and a must in every Pipe Major's band gear. This lower priced, portable model (identified as a "golf cleaning tool") runs on AA batteries with no recharging required. If it's perfect for the golf bag it's perfect for the pipe case.

12-in-1 Multi Function Tool Pen
Whether you need to cut it, carve it, saw it, punch a hole in it, strip it, scrape it, screw it, file it or tweeze it, this Multi Function Pen will do the trick. You never know what emergencies might happen on games day, or out in the field. This little tool is the perfect size and function for many of a piper's needs.

Microfiber Cleaning Towels (25-Pack)
Moisture is the bagpiper's enemy. It is responsible for never ending frustration, never mind playing out in the Scottish rain! Eliminating it, especially when it is inside your drones or on your drone reeds, is Priority 1. Welcome modern textiles and polyester microfiber! A set of these microfiber towels go a long way toward wicking moisture off just about everything. Small strips used as swabs through your drones are the quickest and easiest way to dry your instrument since they instantly absorb any moisture they come in contact with instead of pushing it around like other types of cloth. A pack of these will last you a lifetime.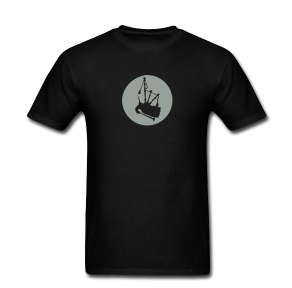 Playing Highland bagpipes is a musical superpower. Become the bagpiping superhero you know you are! These shirts display your piping power for evil doers (or folks who may hate bagpipes) to see and despair. Shirts come in a variety of colors with a grey emblem on the chest. Buy several for your band!