This Week in Ebay Bagpipe Finds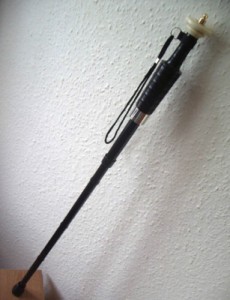 Ebay is a great place to find enterprising pipehackers hawking their latest creation. A casual search will usually turn up a thingamajig that defies explanation or can leave you speechless.
This week in unique Ebay Bagpipe items finds a custom made walking stick that is creatively adorned with a loose bass drone piece for your days on walkabout. The dapper piping heilan' gent can also bring along a small bit of his favorite cologne, stored in the small compartment at the top. You may have your kilt and sparkly sporran, but your ensemble is not complete without one of these. The only thing missing is a hidden blade in case one finds trouble on the trail. Buy it now!